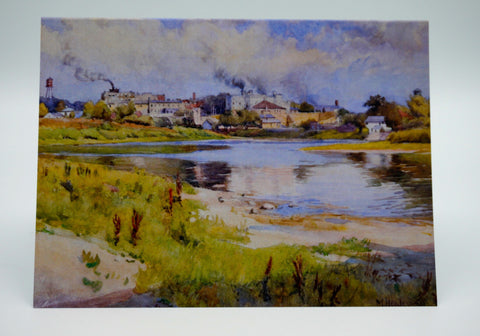 Card - "Forks of the Thames" by Mary Healey
Mary Healey was a noted watercolurist and portrait painter of her time.  She received her art training at the Slade School of Art in London, England in the early 1900s but primarily lived and worked in Yorkshire.  She first arrived in New York City on 28 October 1918 en route to London, Ontario.  Throughout her time in London, she was a caregiver to her younger brother Gilbert Bedford Healey (1888-1932) and most likely immigrated for that purpose.  Gilbert arrived in Canada at St. John, New Brunswick on 6 February 1914 with the intended destination of London, Ontario, living and working here as a draftsman until his death.
Little else is known of Healey's life and work.  Her father (Edward Healey) and brother (Francis Hirst Healey) were both architects in Yorkshire, and her mother died during her youth.  She produced well painted oil and watercolour works and was a prolific painter of the region's pastoral and cityscapes.  During her brief time in London she developed important collegial relationships with many artists including Albert Templar, Caroline Farncomb and Eva Bradshaw.  She was also a friend of Frederick Banting, with whom she spent time paintings.
The Museum London collection includes eight watercolour works depicting various landscapes and views of London and three works in oil on canvas.