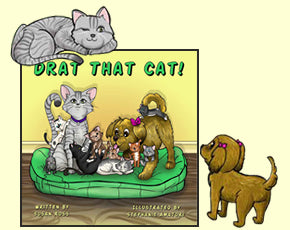 Drat That Cat!
Written by: Susan Ross
Illustrated by: Stephanie Amatori
Grandma and Grandpa's little dog, Abby, is their only pet, and Abby likes it that way. When a stray cat barges into their lives, nothing is ever the same. From the moment Abby meets Tabitha, Abby knows that cat is trouble. But things change when the unspayed cat delivers a big surprise. Will felines take over the household? Will Grandma and Grandpa fix the problem? Will Abby change her mind about that dratted cat?
Find out in Drat That Cat!