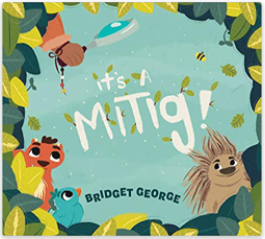 It's A Mitig!
Bridget George is an Anishinaabe author-illustrator, graphic designer and mother to a lovely baby boy named Noah. She was raised on the Kettle and Stony Point First Nation in Ontario and she currently lives in London, ON. This is her first book.
Giizis—the sun—rises. What's hiding in the trees?
It's a Mitig! guides young readers through the forest while introducing them to Ojibwe words for nature. From sunup to sundown, encounter an amik playing with sticks and swimming in the river, a prickly gaag hiding in the bushes and a big, bark-covered mitig.
Featuring vibrant and playful artwork, an illustrated Ojibwe-to-English glossary and a simple introduction to the double-vowel pronunciation system, plus accompanying online recordings, It's a Mitig! is one of the first books of its kind. It was created for young children and their families with the heartfelt desire to spark a lifelong interest in learning language.