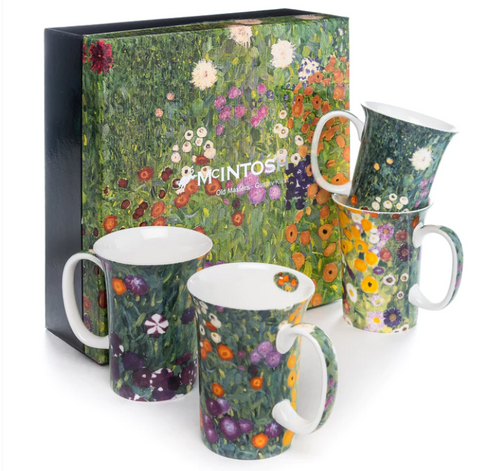 Klimt Flower Garden Mug Set (4)
Lift up your spirit with a good catch up with friends or family while enjoying a cup of tea or coffee. You can serve with this beautiful set of 4 mugs featuring the painting "The Flower Garden" by Old Master - Gustav Klimt. Each mug is designed with a portion of the painting. This set of 4 mugs are made of fine bone china, exquisite yet durable. They are also lightweight and easy to clean, which makes them suitable for everyday use.
Looking for a great gift for your beloved or special someone? Why not buy it here. This product comes in an attractive gift box, which makes it all ready to be given as a gift without any hassle.
Each Mug Capacity: 325 ml or 11 oz approx. 
Height: 4.25" approx.
Width: 3.5" approx.
Material: Fine Bone China
Care: Microwave and Dishwasher Safe
More about The Artist:
Gustav Klimt                      (1862-1918)
Merging images of the metaphysical and erotic, Klimt is a leading artist of the Art Nouveau era. In paintings from his Golden Period, Klimt ventures beyond iconographic images to art that exceeds spatial and temporal constraints.