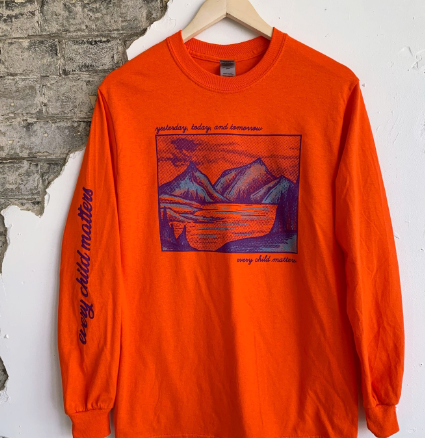 Orange Shirt (long sleeve) - Yesterday, Today, and Tomorrow
Yesterday, Today, and Tomorrow....Every Child Matters.
Designed and printed in London, Ontario by artist Mikaila Stevens, Flourish and Grow and Rezonance Printing.
From Mikaila Stevens:
I grew up in Kamloops and I wanted to honour and pay tribute to the beautiful place I called home as a kid. In my art I use a lot of vibrant colours to create works that bring a light and positivity to whatever I'm trying to create. For this Orange Shirt design I chose bright contrasting colours against the orange to bring a unique and otherworldly look to the landscape.
I can still feel the power of the mountains, trees, and water in Kamloops. A lot of different feelings and memories came back when Kamloops was in the news last June and sparked a wave of grief through all Indigenous communities. It hit me in a unique way that is still hard to put into words, but with this design I wanted to remind myself that there is still beauty on the other side of grief and there is power in acknowledging and honouring our stories made possible by the resilience of our ancestors.