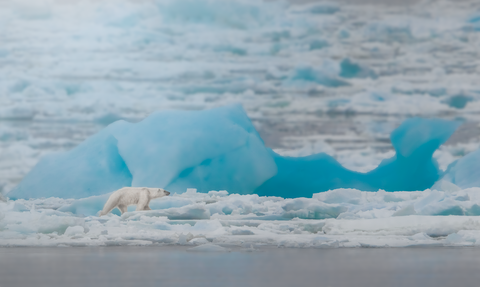 Dave Sandford
The Polar Sea
Regular price
$2,495.00
Rental Fee: $125.00 per month
Limited Edition print, image size 24" x 40"
Black metal frame with white matting
THE POLAR SEA
This piece exclusive to Museum London and is limited to just 20 editions.
SVALBARD, NORWAY. This particular image comes from my personal favourite polar bear encounter. I had been sailing around the Norwegian archipelago in the high Arctic for almost a week without any polar bear sightings. This particular bear "Lucy" was spotted about a km out, walking along the shoreline. Keeping a close eye on her, I watched as she made her way out on to the sea ice. It was clear she was on a mission and following her nose. She had picked up the scent of a ring seal hauled out on the sea ice. Unfortunately for her it was a failed attempt at a meal. It was then, that she turned her attention to our boat and what you see here is her traversing across the sea ice (with a beautiful glacial blue iceberg as the backdrop) towards us. Bears are curious by nature and she was very curious about us. She ended up spending almost 2 more hours walking on the sea ice and swimming around us, cleaning her fur, with a short nap and a great stretching session to follow. In the end she would be the lone polar bear I saw and photographed on this assignment, reinforcing within me the importance of quality over quantity.
Email for inquiry