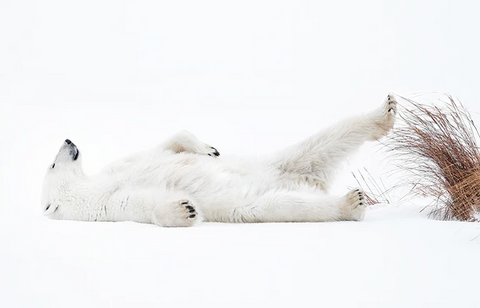 Dave Sandford
Tundra Naps
Regular price
$726.00
Rental Fee: $36.00 per month
Limited Edition print, image sizes available:
12" x 18" - $726
16" x 24" - $981
24" x 36" - $1395
Black metal frame with white matting
TUNDRA NAPS

CHURCHILL, MANITOBA, CANADA. It was a heavy overcast day that saw snow squalls coming in off Hudson Bay as a cold wind blew in from the North, plummeting temperatures into the minus thirties. On days like this, even the toughest of Northern residents, the mighty polar bear will hunker down to weather out the storm. In these types of conditions, if you can find a bear, it is best to stick with it. Sitting for 4 1/2 hours for anything is a test of one's patience but add to the freezing cold with a windchill that ekes its way into your core is a true test of patience. This bear slept and slept until about 30 minutes before we lost the last light of the day. It was then that my patience paid off. The bear woke from its slumber and proceeded to roll over, and then go into a 5-minute stretching routine, or what I like to call polar bear yoga. This provided me with an excess of wonderful images to choose from this encounter, this being one of my personal favourites. I've always said, patience is a virtue and wildlife photography will test your patience to the max.
Email for inquiry